Bihar is India's most flood-prone State, with 76% of the population in the north Bihar living under the recurring threat of flood devastation. 16.5% of the total flood affected area in India is located in Bihar while 22.1% of the flood affected population in India lives in Bihar. About 68,800 square kilometers out of a total geographical area of 94,160 square kilometers comprising 73.06% is flood affected. Floods in Bihar are an annually recurring disaster affecting huge human and livestock population and causing huge damages to agricultural crops, houses and public infrastructure. In between 1979 and 2006, floods of varying intensity have ravaged Bihar on an annually recurrent basis affecting on an average an area of 1.39 mha, a human population of 7.71million and a livestock population of 1.55 million per annum. Crop losses have been on an average to the tune of Rs 1423.33 million per annum and that of public property to the tune of Rs 568.30 million. Loss of human lives has been on an average of 210 per annum and that of livestock at 680 per annum.
In between 1979 and 2006, floods of varying intensity have ravaged Bihar on an annually recurrent basis affecting on an average an area of 1.39 mha, a human population of 7.71million and a livestock population of 1.55 million per annum. Crop losses have been on an average to the tune of Rs 1423.33 million per annum and that of public property to the tune of Rs 568.30 million. Loss of human lives has been on an average of 210 per annum and that of livestock at 680 per annum.
Recognition of the increasing cost and complexity of emergency relief operations has focused attention on taking preventive action and planning for disaster before they happen. It is becoming increasingly evident now that a relatively smaller investment in disaster preparedness can save thousands of lives and vital economic assets, as well as
reduce the cost of overall relief assistance. Disaster statistics are hard to calculate with any accuracy or consistency. Nonetheless, all the evidence points to a steep and continuing rise in deaths and injuries from disasters since the 1960s, and there is a general consensus among researchers and insurers that the number of disasters is increasing. This rise cannot be explained by a parallel rise in the number of earthquakes, cyclones and the like. What we are seeing is an increase in the effects of disasters on people - or, in other words, an increase in people's vulnerability to disasters. It is the social, cultural, economic and political environment that makes people vulnerable. This is most apparent in the economic pressures that force many of the poor to live in cheap but dangerous locations such as flood plains and unstable hillsides; but there are many less visible underlying factors - social and political as well as economic - that affect people's ability to protect themselves against disasters or to recover from them. Some groups are more vulnerable than others. Class, caste, ethnicity, gender, disability and age are all factors affecting people's vulnerability. Those who are already at an economic or social disadvantage because of one or more of these characteristics tend to be more likely to suffer during disasters. Little wonder then that recipients of both disaster and development are increasingly becoming one and the same, usually the poorest and the weakest groups within the developing countries. Hence, it is important that Disaster Risk Management is an integral component of any development planning, the case of North Bihar plains being no exception. A sustainable livelihood index analysis conducted for 80 agro-climatic sub zones revealed that all the five sub-zones of Bihar namely, north Bihar plains, North-eastern plains, South-Bihar plains, Chota Nagpur hills and Chota Nagpur Plateau rank at the bottom requiring urgent intervention. Evidently, poverty is most widespread in areas that are more vulnerable to natural disasters. These areas are also poorly ranked in terms of sustainability-ecological, economic and equity based indexing.
Thus disaster risk management has been one of the defining paradigms for all the developmental initiatives of SSVK in its operational area. Key interventions comprise the following:
Emergency relief operations involving provision of food, safe drinking water and temporary shelters, extension of medical assistance and provision of boats for facilitating movement of the marooned
Rehabilitative efforts involving reconstruction of damaged settlements and restoration of livelihoods
Diversification of livelihood support base
Strengthening community level coping mechanisms through organisation building and institutional development and promotion of grain banks and contingency fund reserves (gram kosh) amidst affected communities
Building community capacities to act as first responders in the event of floods
Networking with all relevant stakeholders around a shared perspective, towards addressing the issue of Bihar floods at all the levels of mitigation, preparedness, response and recovery.
Advocacy centred initiatives geared towards addressing the root causes of the flooding problem, galvanizing state response and inclusion of the most marginalized in the relief and recovery operations initiated by the various stakeholders – most importantly the government.

Disaster Managements related Acts / Reports and Articles

Good Practices and Lessons Learned in Disaster Risk Reduction

Closing the gaps: disaster risk reduction and adaptation to climate change

in developing countries

http://www.ccdcommission.org/Filer/report/CCD_REPORT.pdf
Crisis Management & Mitigation Sites
SSVK Other Disaster Management Intervations
SSVK Relief Interventions in different type of Disasters in Bihar
Bihar disaster mitigation training for volunteers organized by SSVK in Madhubani June 2010. Mr. Hasmukh Sadhu Director of
All India Disaster Mitigation Institute Ahmadabad inaugural speech to Volunteers of SSVK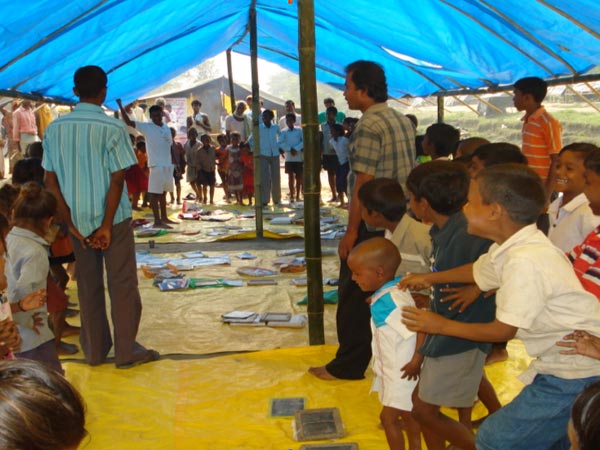 Child Care Centre run by ssvk in Madhepura district after kosi flood

Kosi affected childrens in ssvk centre with biscuits in jolly mood

SSVK Transparency – A display board with the list of 42 items to Fire-Cyclone victims of Madhubani distributed by SSVK
in June-July 2010 with the support of Taj PSWTM (A Tata Enterprises)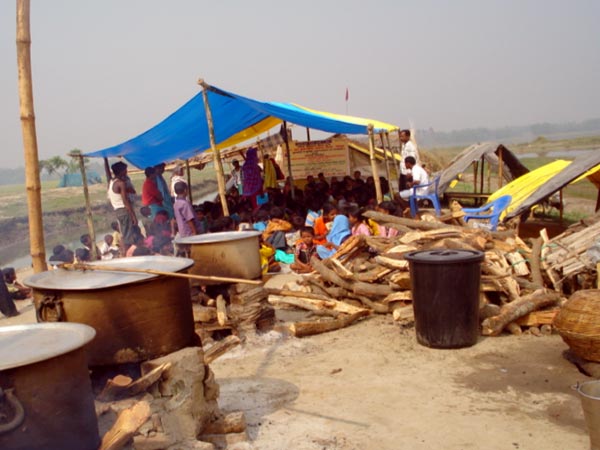 Community kitchen providing food & employment to the villagers
A human tragedy of unparalleled dimensions has unleashed itself on millions residing in the 7 North Bihar Districts of Supaul, Araria, Madhepura, Saharsa, Purnia, Khagaria and Katihar due to a breach in the in the eastern Kosi embankment upstream of the Indian border at Kushaha in neighbouring Nepal on the 18th of August, 2008.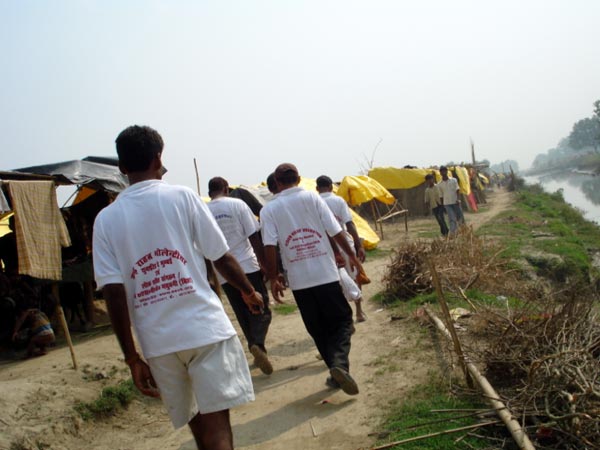 Volunteers visiting door to door to help them out
Polythene sheet given by SSVK to flood victims of kosi for their shelter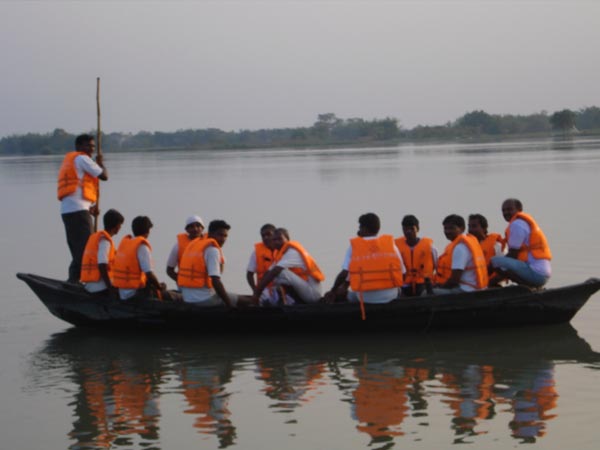 SSVK Volunteers roaming with their life jacket to relief & rescue the flood victimes
Setting infrastructure for community kitchen for kosi flood victims 2008
SSVK health volunteer with the assistance of United Way dealing medical problem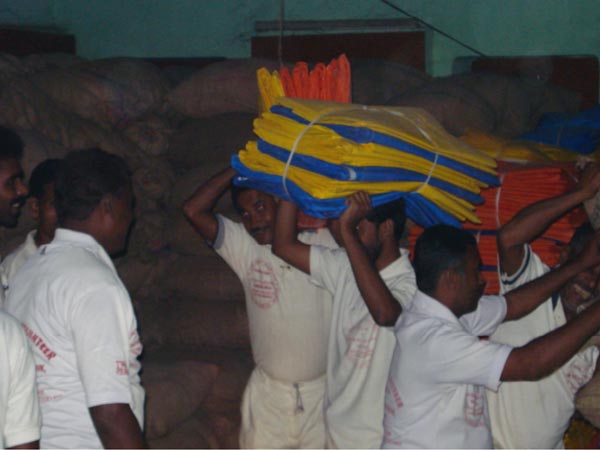 Polythene sheet and raw food stored at SSVK Saharsa warehouse
SSVK volunteers writing reports of flood relief camp in Saharsa office
SSVK Secretary visiting kushwaha dam ( Nepal ) after koshi devastation
Country boat taking away flood victim to relief camp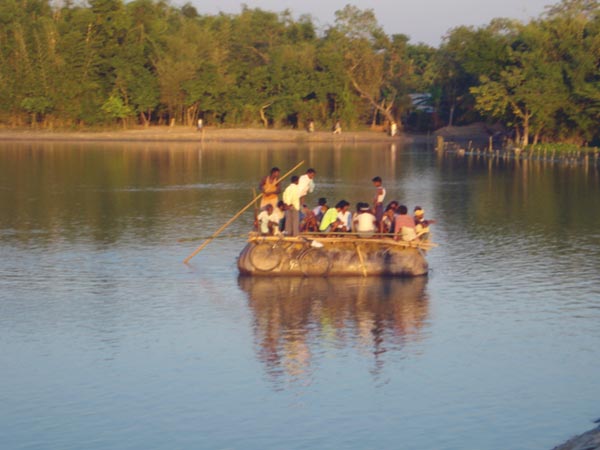 SSVK volunteers using Pipa iron boat in madhepura district
SSVK volunteers providing cooked food among kosi flood victims in Saharsa district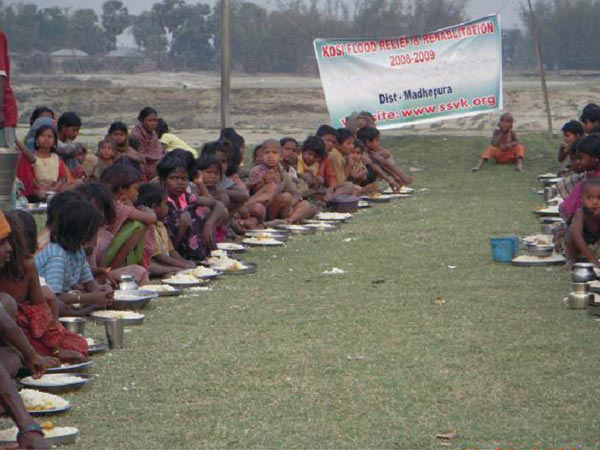 Children in a community kitchen in Murliganj block of Madhepura district run by ssvk
SSVK catering cooked food to the kosi flood victims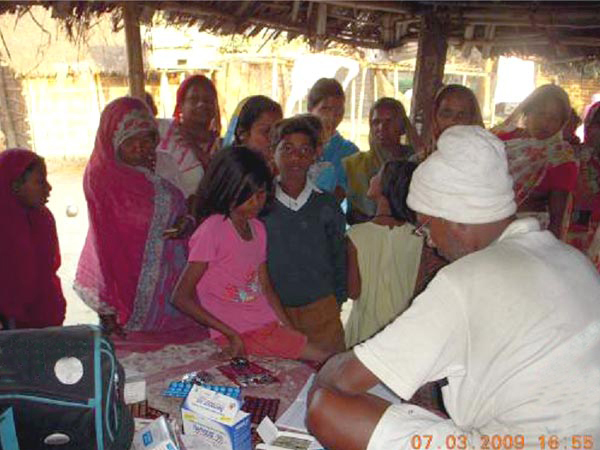 Doctors distributing medicine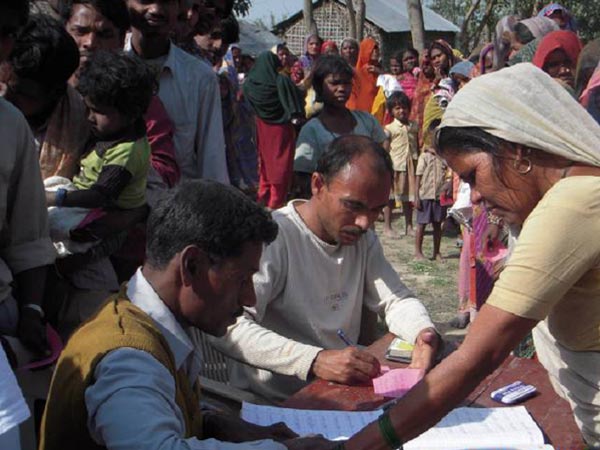 SSVK volunteers giving coupon for cooked food and dry ration
Country boat flooded with people going towards food camp in kumarkhand block of madhepura district
Aftermath of koshi devastation after seven month (Madhepura district)
SSVK Volunteers reaching in flood affected area by bike in kumarkhand block of madhepura district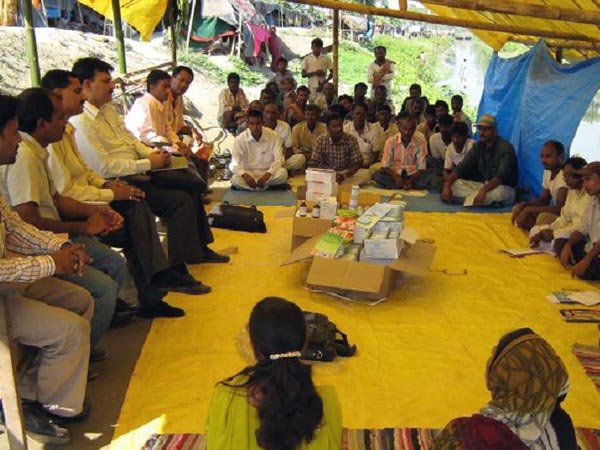 SSVK Health volunteers training at camp in Madhepura district supported by Unicef
Training of volunteers by Unicef at Beldaur Nahar of Murliganj block district Madhepura In SSVK Camp No.2
Stocks carried by volunteer
Children in community kitchen in Madhepura district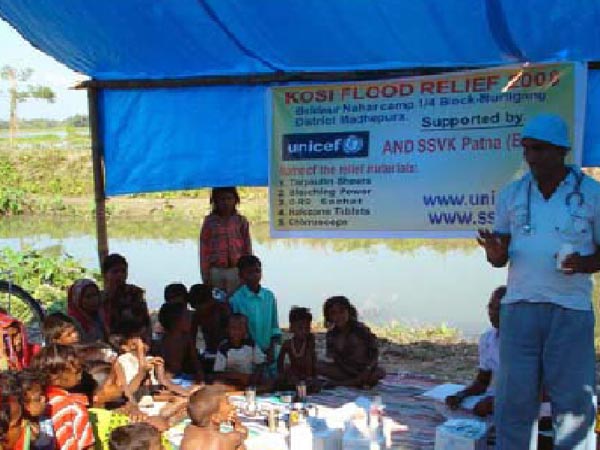 Camp inmates being briefed on use of ORS by the health volunteer
Vit-A Supplementation
S.S.V.K and UNITED WAY joined there hand together for catering cooked food to flood victims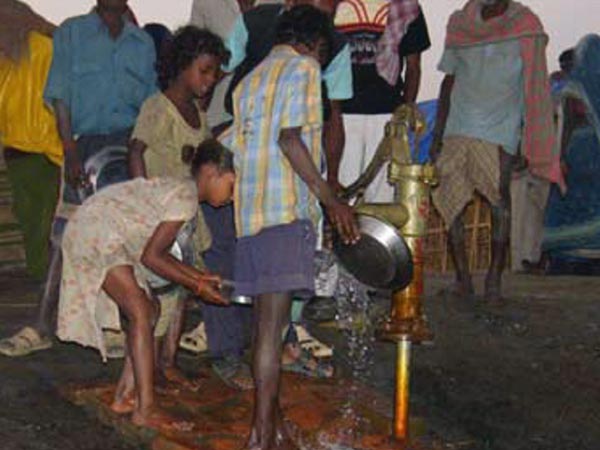 Hand pump installed by s.s.v.k for safe drinking water in Saharsa district in kumarkhand block of Madhepura district
Volunteers making food in ssvk camp at madhepura
SSVK Volunteers at madhepura camp
Ssvk volunteers Providing medical assistance in murliganj of madhepura district
Ssvk Food stock for community kitchen in at Beldaur Nahar ,murliganj block of madhepura district supported by Krishna Arpanam Mumbai
Shelter and food provided by s.sv.k with the support of Krishna Arpanam
Making queue for getting flat rice& jaggery in ssvk camp in Murliganj supported by Saffron Art Mumbai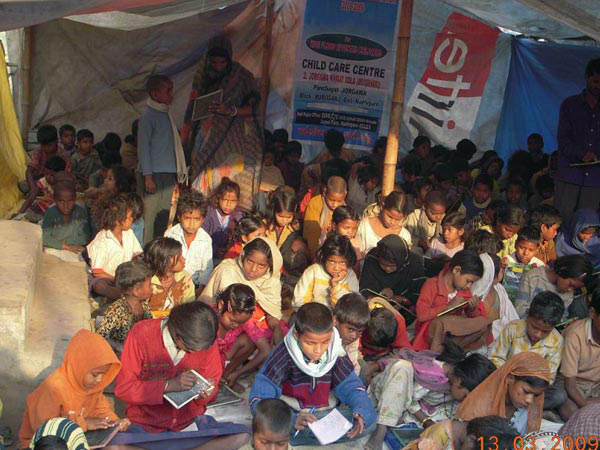 Children attending class in child care camp run by ssvk in madhepura
Villagers waiting for boat for ssvk relief camp in madhepura
Volunteers making food in ssvk camp at madhepura
Doctor observing child in madhepura
Meal providing by SSVK with the support of Krishna arpanam at Beldaur (Madhepura district)
SSVK Volunteers Maintaining Records at Madhepura office
Woman in possession of ploythene sheets provided by unicef
Flood victims with their stuff struggling their life using banana tree as a boat in kosi flood 2008.
Life Jacket for Flood Response volunteers of SSVK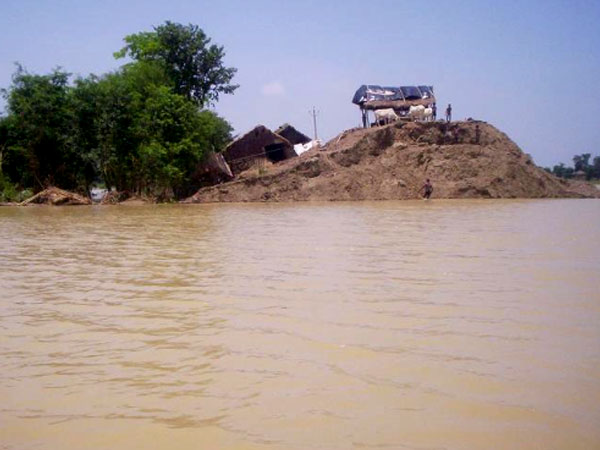 Embankment broken by flood
People carrying flood relief material provided by SSVK
IEC demonstrating rights of flood victim
Flood victim in sistamatic manner with token waiting for flood relief material in ssvk campus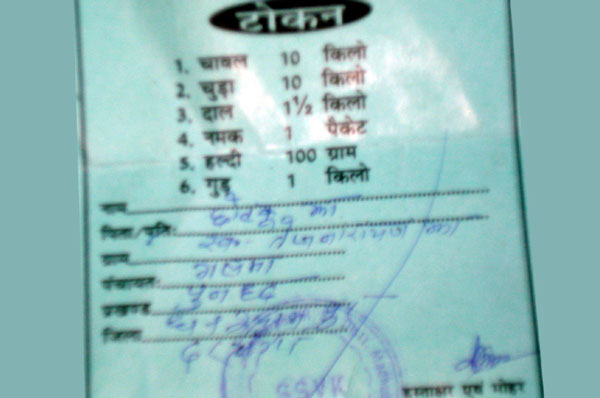 Sample of token for flood relief.
DW and Deepak Bharti SSVK secretary in disaster mitigation meeting with International Agency
(OXFEM, World Bank, Cord Aid, Save the Children Fund, Christan Aid, UNICEF, Actionaid)
Community kitchen during flood to feed flood victim
Flood victim with polythene sheet provided by SSVK for shelter
Polythene sheets distribution among flood victim for shelter
Flood victim with food material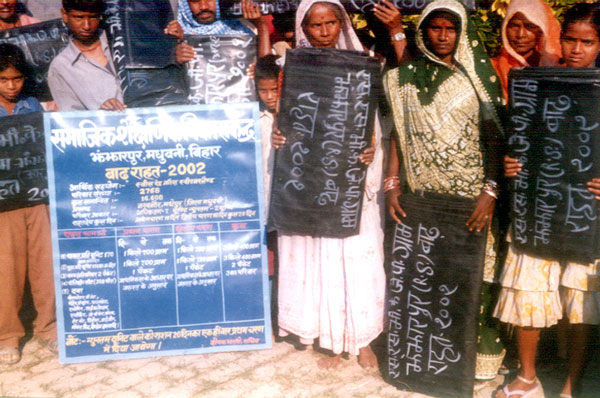 Flood victim with polythene sheets
Feeding community during flood
Weighting food grain for distribution among flood victim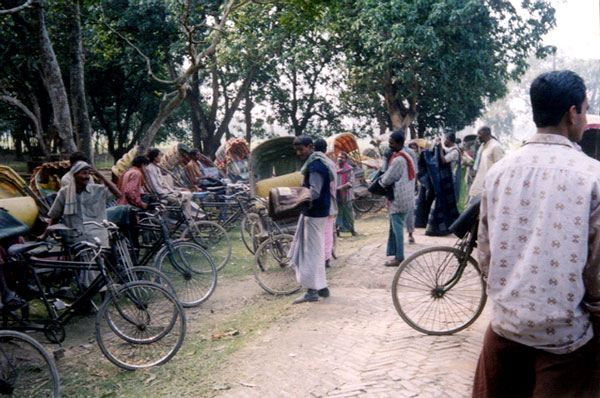 Blanket distribution among rickshaw puller (flood victim)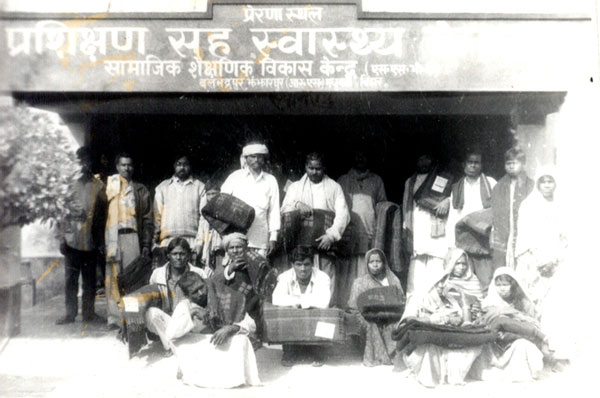 Flood victims with blanket provided by SSVK
Rickshaw puller with blanket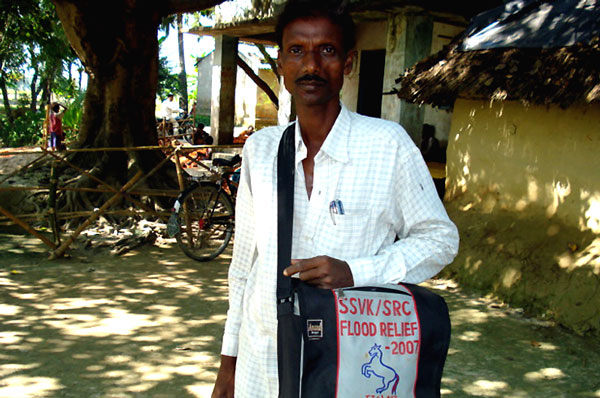 Flood Relief worker in village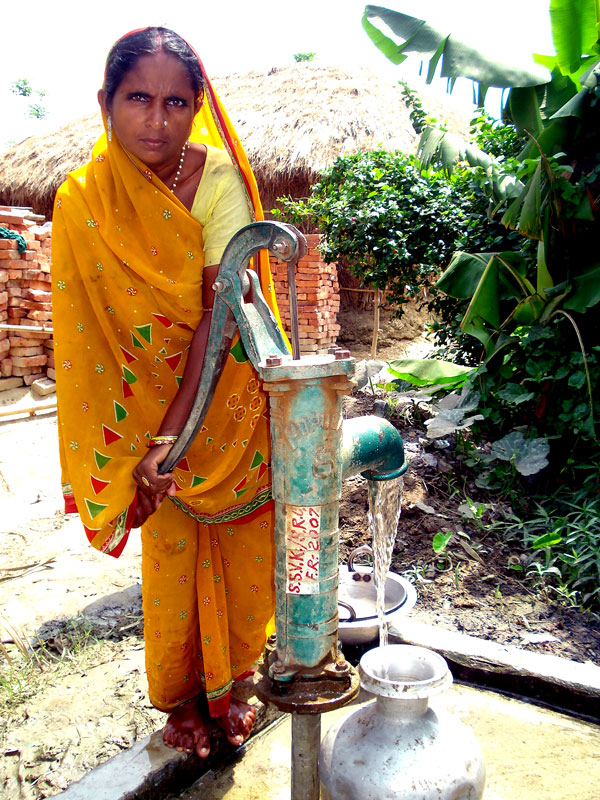 Hand pump for safe drinking water installed in flood affected area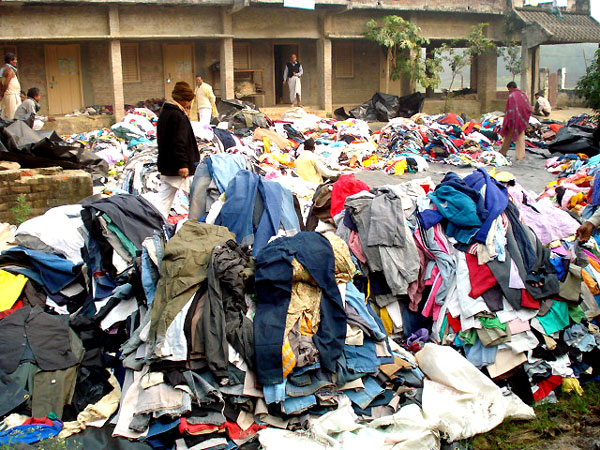 Cloths stored at SSVK office for distribution
Health awareness campaign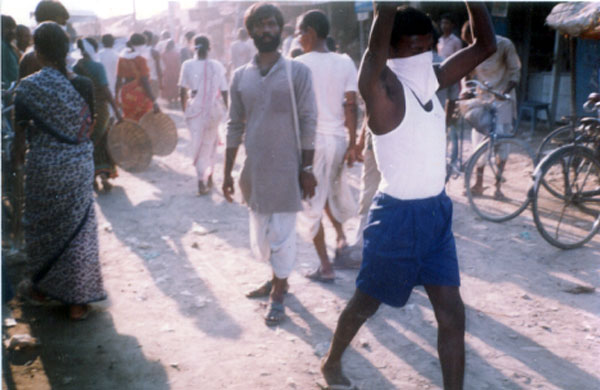 Campaign to stop plague
Manufaturing of boat by SSVK for flood affeted people.
Flood victim with relief material