Drought Situation in Bihar 2009
Drought is now "official" in India. Bihar has recorded a 42 percent rainfall deficit so far this monsoon season. This has hit the transplanting of paddy seedlings. "The state during the period between June 1 and Aug 6, 2009 had received just 331.7 mm of rainfall against the average 568.5 mm — a deficiency of 42 percent. It has resulted in 58 percent decline in paddy transplantation," an agriculture department official said.
Bihar had targeted sowing of paddy in 8,772,241 acres this year, but the crop could only be planted in only 3,822,967 acres so far.
Altogether 26 of the 38 districts of Bihar have been declared drought-hit. Districts under Magadh, Munger, Saran and Tirhut divisions are among the worst affected.
Drought Related Reports / Links
List of Districts of Bihar declared as Drought affected
Magadh Division
1. Gaya
2. Jahanabad
3. Aurangabad
4. Arbal
5. Nawada

Patna Division
1. Patna
2. Nalanda
3. Bhojpur
4. Buxer
5. Rohtas
6. Kamur

Munger Division
1. Munger
2. Sekhpura
3. Lakhisaraya
4. Jamui
5. Begusarai

Bhagalpur Diviosn
1. Bhagalpur
2. Banka

Saran Division
1. Saran
2. Siwan

Tirhut Division
1. Muzaffarpur
2. Sitamarhi
3. Baisalai

Kosi Division

1.Madhepura

Purnea Division
1. Kishanganj
2. Katihar
Nitish Kumar had requested Prime Minister Manmohan Singh to send a high-level ministerial team to assess the situation arising out of the natural calamity in the state.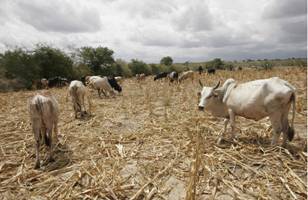 The spectre of drought looms large over Bihar with the recent depression over the Bay of Bengal that caused widespread rainfall in Orissa, Chhattisgarh and parts of Jharkhand shifting to the north-west direction.
The state government has earmarked Rs 50 crore for farmers after chief minister Nitish Kumar acknowledged the grim situation and announced Rs 10 as subsidy for every litre of diesel purchased by farmers to irrigate their field. "Save the crops as much as you can," Nitish told farmers. "The state, in all probability, will go without rains in the next 48 hours after which there is some possibility of change in the climatic conditions that might precipitate some rainfall," Jha added. Barring Patna, Purnia and Gaya, almost all districts of the state are already reeling under drought.
The drought is so serious in Uttar Pradesh, which produces most of India's sugarcane, that two-thirds of its districts were declared drought-hit in late July, with rainfall 40-60 percent below average, Altogether 1.26 crore families were affected by the drought
Much of India's economic growth depends on agriculture and nearly 246 districts (10 states) of the country's 626 ( 35states) districts have been declared drought-hit.The drought has been blamed on the lack of rainfall since the monsoon season started in June. With rainfall 29 percent below normal levels, the country is bracing itself for a possible skyrocketing in food prices.One of the most affected industries has been sugarcane, which relies heavily on water from the monsoon.
The drought in various parts of India has affected crops including sugarcane and the government has reacted by allowing duty-free imports of raw sugar and up to 1 million tones of duty-free imports of refined sugar.

The finance minister has declared that the drought will be fought on a "war footing" -he has not clarified as to what prior preparations had been made to counter the contingency of "war".
ANNUAL RAINFALL SITUATION DURING 2009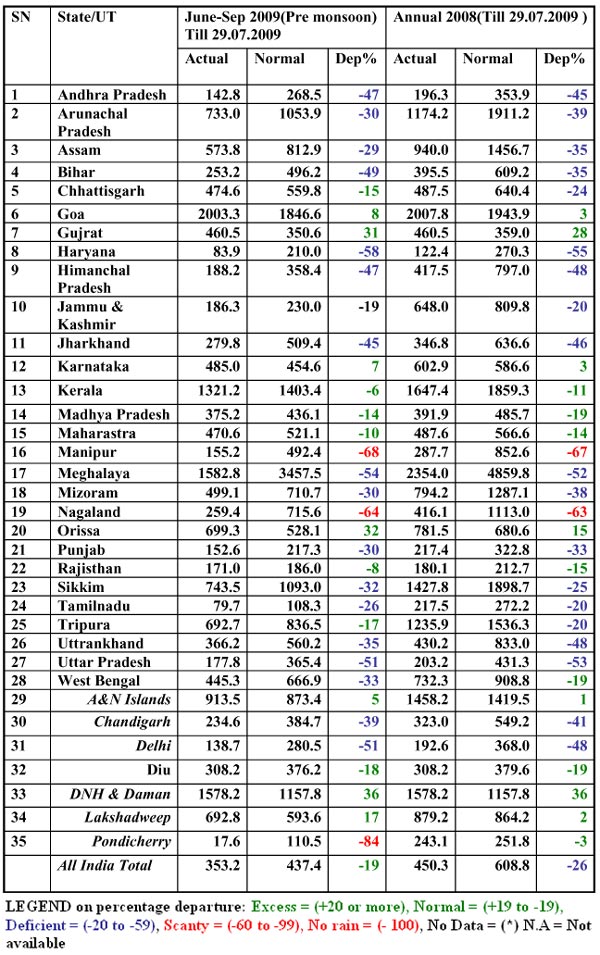 Drought conditions have not been unknown in India; indeed in some pocket of the country every year, there is scanty rainfall, and drought conditions surface. For the past few years however, we have not been visited with severe drought conditions in general; a rule of thumb, going by past experience, is that one year in seven, rainfall becomes scanty. Drought conditions, in eastern UP, in 1966, which was a terrible year for east UP and west Bihar, as below:
The Bihar Famine was declared on 20 April 1967.


The Bihar famine has by many authors been characterized as evidence in support of India'ssuccessful famine prevention efforts. However, Jean Drèze expresses clear concern with this view, stating that "[t]here is precious little evidence to support the self-congratulary statements that have commonly been made about the Bihar famine." He also acknowledges the fact that "food deprivation led to acute and widespread malnutrition." The level of calorie intake per day was less than 1800 for 26,5 % of the population in drought-affected areas. While daily calorie requirement vary greatly and are notoriously difficult to estimate, the FAO figure of 2450 per day for the average person seems reasonable to use. These estimates suggest a sharp abnormality, though not necessarily a decline in aggregate food consumption during the drought, accompanied by massive nutritional damage. Excess mortality is always difficult to measure, but the Annual Report on Vital Statistics of Bihar 68, suggests a death rate of 13,9 per thousand in 1967, compared with a normal of about 10 per thousand. S. K. Singh suggests an even higher death rate of 16,9 per thousand in the last part of 1966, but there is some inconsistency in his estimates. However, as measured by registered deaths, probably the most reliable source, the death rate in Bihar in 1967 was 34 % above its 1968 level. Famine was declared on 20 April 1967.
That was the first time since Independence that the Government of India (Indira Gandhi) and Lok Nayak Jai prakash Narayan (JP) appeal the world for special relief support to tackle a natural disaster. J.P was the chairman of the Bihar Relief Committee. Due to the two great leaders, PL 480 agreement was made by America and India both. To overcome of that severe drought, "Daliya" (a food prepared by milk and wheat) of Russia had been distributed.
Draught Related Reports / News Published in Regional & National Newspaper :