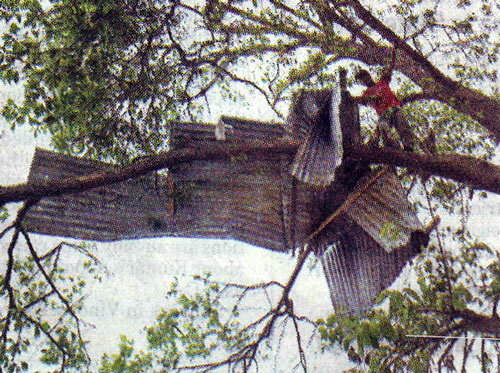 Purnia: The tornado whipped up a cyclonic storm that ragged at speeds ranging from 80 to 125 KMPH and ripped through nearly 100000 one lack homes in Bihar,s Purnia, Araria, Supaul and Kisanganj districts. At least 69 people mostly women and children were killed. SSVK / LSS volunteers reached in affected area. They need help.
Hundered injured, 1100 houses gutted in Bihar massive fire- An Appeal
SSVK Run Relief Camp among Fire Victimes of Dareh and Behra Villages of Madhepur Block of Madhubani district (Bihar) India
News Related to Massive Fire & Cyclone
Photo Documentation & Reports
Madhubani / Darbhanga (Bihar): Hundred people were injured and over 1100 bamboo thatched houses gutted in a fire that broke out in (Darah 325 huts in kosi region) and (Behra 311 huts inside kamala region) village of Madhepur block of Bihar's Madhubani and 89 houses in Nadega village of Biraul block of Darbhanga district on 6th April 2010. The fire caused by a spark from an mud oven soon engulffed the all hamlets fanned by stormy winds. The flames had spread in other houses in the neighborhood forcing people to evacuate their huts. No fire vehicles and bihar govt.relief reached yet in this remote village.Over 5000 Five thousand peoples including childrens and womens are homeless in bihar 43 degree hot temperature and open sun ray/Rain. SSVK and its people,s organization Lok Shakti Sangathan 50 volunteers reached on spot and helping them.. Our disaster response team has assessed the situation and started the 3 relief camps in 2 affected vollages Dareh and Behra of Madhubani District from 8th April to 22 april 2010 and one camp in Nadega in Biraul blok of Darbhanga district from 15th to 24th april 2010.

Given this context, Samajik Shaikshanik Vikas Kendra (SSVK), in light of its 25 years of experience in running relief and rehabilitation programmes, has prioritized for itself the need to intervene in the affected districts. We, at SSVK and it,s people,s organization Lok Shakti Sangathan have had a long standing organizational presence in the affected district. In this hour of crisis, we look upon the need of our intervention as a moral imperative. Hence, we appeal to all concerned to contribute in whatever way they can. Most urgently, the food, clothing, shelter, drinking water and health needs of these helpless victims need to be addressed. So for the time being you could contribute in forms which address these needs. Contributions are welcome in cash or kind.Please come forward for Relief, Rehab and Reconstruction of houses also. We assure you of utmost transparency and accountability in making use of your contributions.
The people in the flood affected areas are suffering. It is our foremost duty to help these
affected families during this calamity.
Hence, this appeal is specifically directed at those donors, who are willing to extend support on this count. Our assurance is value added work for the support we get from them.
You can send the DD / Cheque also in favour of Samajik Shaikshanik Vikas Kendra
FCRA Account Detail
( For foreign grant / donations please use this account )
Core Banking
STATE BANK OF INDIA, JHANJHARPUR
Bank Code: 03266
IFSC Code: SBIN0003266
Account No: 11462682338
General Account Details ( For Indian fund / grant / donations please use these accounts)
STATE BANK OF INDIA, JHANJHARPUR
IFSC Code: SBIN0003266
Bank Code: 03266
Account No 11462685088
INDUSIND BANK
Account Number: 0055F62519-001
IFSC Code: INDB0000055
Savings Account-Multi-City
Rajendra Ram Plaza Exhibtion Road
Patna-800001
For further details and clarifications, kindly contact us at the following:
State Co-ordination cum Correspondence Office:
Samajik Shaikshanik Vikas Kendra (SSVK)
Lok Shakti Bhawan,
Opp: Ajay Nilayan Apartment,
Nageshwar Colony, Boring Road
Patna – 800001 (Bihar) India
| | |
| --- | --- |
| Tele / FAX No. | + 91 - 612 - 2522077 |
| Mobile: | + 91 - 94310 25801 / 9973161483 |
| E-mail : | |
| | |
| | |
| | |
| Web : | |
Registration Details
Name of the organization

Samajik Shaikshanik Vikas Kendra (SSVK)

Registration No. and date

Registered under: Society Registration Act XXI, 1860 by IG Registration, Govt. of Bihar at Patna Dated 5th April 1986 Registration No – 162 Year 1986-87

FCRA No. and date

Foreign Contribution Regulation Act .FCRA Regn No- 031290010 Dated-14 march 1990

Registered under 12A of Income Tax Act.

IT Act 12A of Income Tax Act. Regn No-12A/1-70/344- 48
dated 09.04.1991. Register Sl No -03

Registered under 80G Tax Exemption.

Section 80G of IT Act. 80G Tax Exempted. No-2808-09 dated10.09.2008
Valid from 01.04.2008 to 31.03.2011.

Registered under Tan

TAN (Tax deduction at source account number)
Tan No-PTNS02583A

Registered under Pan

PAN (Permanent account number) Pan No-AADTS2221G

FCRA Account Details
( For foreign grant / donations please use this account )

Core Banking
STATE BANK OF INDIA, JHANJHARPUR
Bank Code: 03266
IFSC Code: SBIN0003266
Account No: 11462682338

General Account Details
( ForIndian fund / grant / donations please use these accounts )

STATE BANK OF INDIA, JHANJHARPUR
IFSC Code: SBIN0003266
Bank Code: 03266
Account No 11462685088

Bank Name: INDUSIND BANK
Account Number: 0055F62519-001
IFSC Code: INDB0000055
Savings Account-Multi-City
Rajendra Ram Plaza Exhibtion Road
Patna-800001

Statuory Auditors

M/A G. Mandal And Co (Chartered Accountant, Near Indira Bhawan, West Boring Canal Road, New Punai Chak , Patna- 800023
www.ssvk.org
ssvkindia@gmail.com , info@ssvk.org , deepakbharti@ssvk.org