The geographical locations in Bihar where SSVK has worked for Dalits / Mahadalits through its frontal organisation Lok Shakti Sangathan : Madhubani, Darbhanga, Saharsa, Supaul, Madhepura, Araria, Khagaria, Katihar, Purnia,Kisanganj Muzaffarpur, Samastipur, Bhagalpur, East,Champaran, West Champaran, Gopalgang, Sheohar and Sitamarhi Districts of Bihar

SSVK Approaches And Strategies

ORGANISATIONAL PERSPECTIVE

Locating the developmental anomaly in structural causes such as control/ownership of and access to resources; economic, political and social structures; ideological factors (habits, beliefs, cultural preferences); and insufficient awareness and knowledge; SSVK stands committed to the effective empowerment of the marginalised people. It lays a strategic focus on the element of local action, treating it as an essential part of the development process involving changes, most important of which is, in the attitude and action of the marginalised who become participants in the process itself. Rural development is viewed as a complex process involving continuous reorientation and adaptation of traditional values, practices and institutions in order to facilitate appropriate interventions/technologies to enhance quality of life and welfare, and the consequent bargaining /negotiating powers, of the disenfranchised and the disempowered.
STRATEGY
The methodology adopted by the organisation for the attainment of its goal is one of a harmonious blend of the twin approaches of activism/struggle and development. The way to effective empowerment is one hinging on and oriented towards evolving autonomous community based organisations endowed with capabilities required for the actualisation of a spirit of self-determination and self-reliance. Further community based organisations have strategic networking relationships in all the target areas under the banner of Lok Shakti Sangathan, http://www.ssvk.org/lss.htm a frontal organisation with an avowed aim to facilitate issue based interventions from time to time. Strategies deployed for mobilisation involve intensive animation inputs at the village level, periodic larger meets on entitlements related issues and mass contact programmes through `Padyatras". Protest strategies involve petitioning, demonstrations, sit ins and legal redressal.
Given the level of government apathy and the prolonged time factor, which inheres in entitlement oriented struggles, SSVK, in order to cater to some of the crucial needs of the people, also undertakes sectoral interventions like primary health care, non formal education and income generation, with an emphasis on thrift and credit operations. Even in these interventions the emphasis has been on promoting the self-help initiatives and the limited service delivery that has been there in these interventions has been strategically geared towards demand generation at the target group level for their effective mobilization.
APPROACH
Promote leadership at the community level by training them as social animators and social organizers with emphasis on their capacity development in

perspective building & situation analysis
social animation skills, group formation, group development and institution building
participatory planning, monitoring and evaluation
legal education
training in savings and credit operations
Knowledge about Government facilities and welfare and development
programmes
Promoting effective participation of target group in Panchayati Institutions

Enable the emergence of the target population as self-defining groups with a strong sense of self-identity through enhancing their capacity to harness local and internal resources physical, intellectual and financial included
Promoting networked initiatives of the CBOs for rights and entitlement related issues
Create amidst them an awareness of their physical, social and political environment to induce an attitude of meaningful and constructive action on their part
Enable the target group to access its developmental and welfare entitlements from the government
Ensure effective participation of target group members in institutions of decentralized governance
Enhance effectiveness of panchayati institutions
Enhance the self-reliance of the target group through creating and sustaining economic opportunities
Advocate on issues of consequence for the target group
Links for Lok Shakti Sangathan related articles and Interviews:
National Convenor of Lok Shakti Sangathan India Mr. Deepak Bharti addressing the musahar dalit community of Bihar and Utter Pradesh in Ram Lila Maidan, New Delhi in a occasion of Musahar Parliament March and Musahar Adhikar Diwas.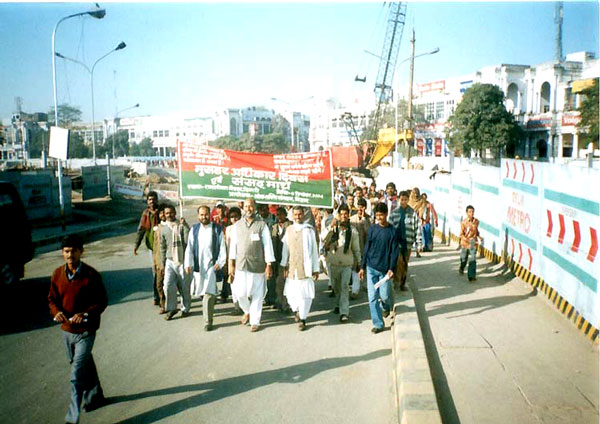 March to parliament in New Delhi on the occasion of International Dalit Dignity DayRally
Participation of SSVK Community leaders in World Social Forum 2004 Mumbai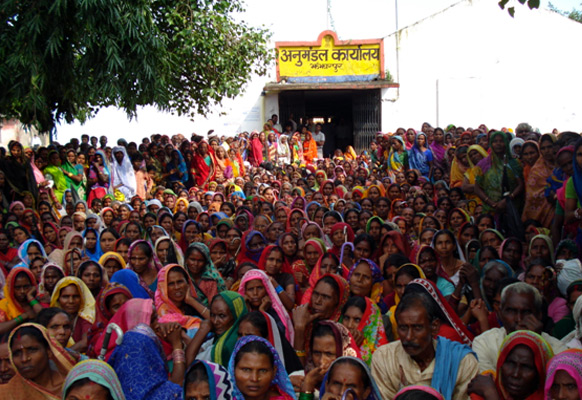 Lok Shakti Sangathan peoples of Jhanjharpur demanding their
rights and to stop corruption.
Deputy Chief Minister of Bihar Sri. Sushil Modi in Dharna (Sit-in) demanding RTI,PRI, Livelihood in Patna organized by
SSVK under banner of LSS